Blend by Design
Receive the support you need for designing and teaching
an engaging, student-centered blended course.
A Comprehensive Online Course
Blend by Design is your comprehensive guide to creating and teaching a blended course. In Blend by Design, you'll receive guidance on writing course goals and learning objectives, designing engaging learning activities, creating effective assessments, mapping your course to ensure alignment across all elements, and creating a supportive and welcoming space for your students, all specific to the blended course environment.
View the Blend by Design Course Trailer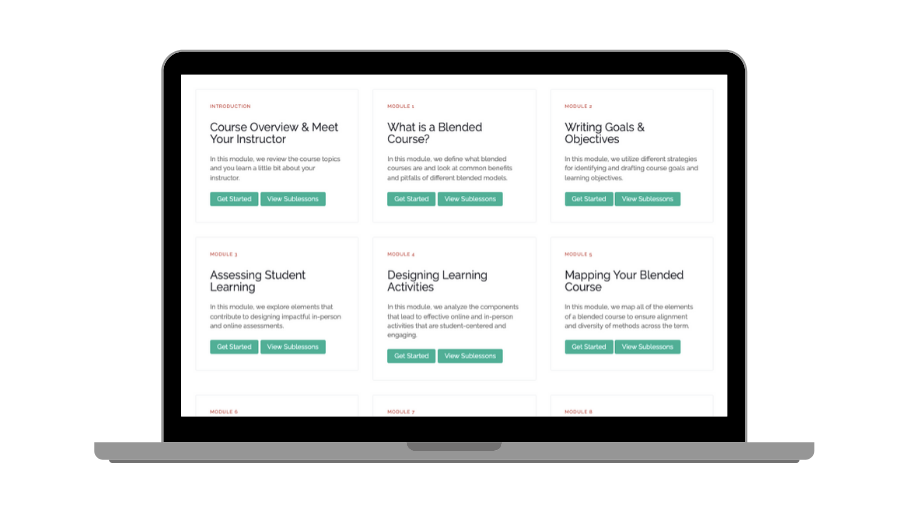 Engaging Step-by-Step Activities
All Blend by Design modules include engaging activities for planning and designing a blended course that is designed to be student-centered. Each section of the course is color-coded with activities aligned to Blend by Design course goals and objectives. The course also pairs well with The Blended Course Workbook: A Practical Guide.
Dr. Katie Linder is currently the Associate Vice Chancellor for Digital Strategy and Learning at the University of Colorado Denver.
Katie has a passion for helping others engage in and create meaningful change. For the past several years, her work has focused on the intentional integration of technology into the higher education classroom; how to implement practices and tools for meaningful productivity; and methods for integrating change management theories and techniques into higher education processes.
Katie is a four-time book author and four-time book editor. Her latest works include Going Alt-Ac: A Guide to Alternative Academic Careers (Stylus, 2020), Managing Your Professional Identity Online (Stylus, 2018) and The Blended Course Design Workbook: A Practical Guide (Stylus, 2016).
Learn more about Katie's work and projects on her professional website.